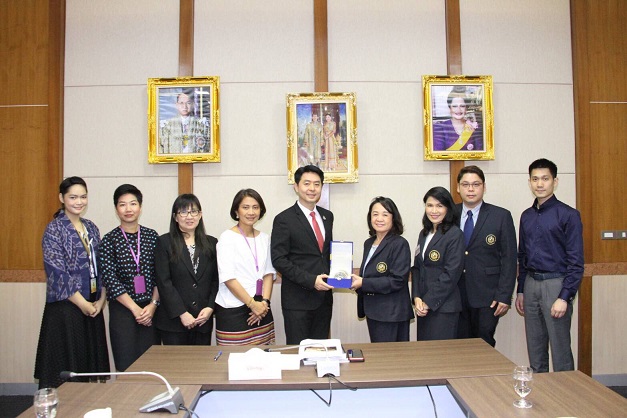 ABLE Center Joins VT Thai Group Co., Ltd. In Promoting Thai Products
On Sept. 27, 2019, Mr. Poramet Ngampichet, the vice minister of culture, was appointed by Culture Minister Mr. Ittipol Khunpluem, to attend a meeting between representatives of the Martin de Tours School of Management and Economics (MSME), Assumption University, and VT Thai Group Co., Ltd. at the Ministry of Culture in Bangkok.
A partnership between the Assumption Business Leading Entrepreneurship (ABLE) center and the online marketing platform "VT Thai" has been formed with the purpose of providing expertise and recommendations in developing marketing plans and in serving as a one-stop center in promoting businesses, particularly of traditional Thai products. The role of the partnership is to act as the middleman among parties involved in the process of producing and marketing the products – ranging from the sources of raw materials, producers, designers, and factories – and in providing advice in areas such as brand creation, the search for market opportunities, and promotion activities that align with the demands of the global markets.
The main goal of the partnership is to strengthen the image of traditional Thai products in the world market by creating awareness in the quality and value of the products which will be attained through the development of a well-coordinated network of partners in the industry. In addition, the promotion of the traditional Thai products industry is aimed to support local communities with increased sources of income that would lead to a more stable national economy – a step that corresponds with the Ministry of Culture's policies of aligning culture with the government's Thailand 4.0 strategy.
Representatives at the meeting included Assist. Prof. Dr. Uree Cheasakul (Dean, Martin de Tours School of Management and Economics), Dr. Akechai Judkrue (Director, ABLE center), Dr. Punnaluck Satanasavapak (Chairperson, Marketing department), Mr. Jirarot Pojanavaraphan (CEO, VT Thai Group Co., Ltd.), Mrs. Chotika Akarakitsopakul (นางโชติกา อัครกิจโสภากุล) (Director, Central Affairs) , Mrs. Kanjana Tumkleeb (Director, Institute of Contemporary Art and Culture) and the management board members of the Ministry of Culture.