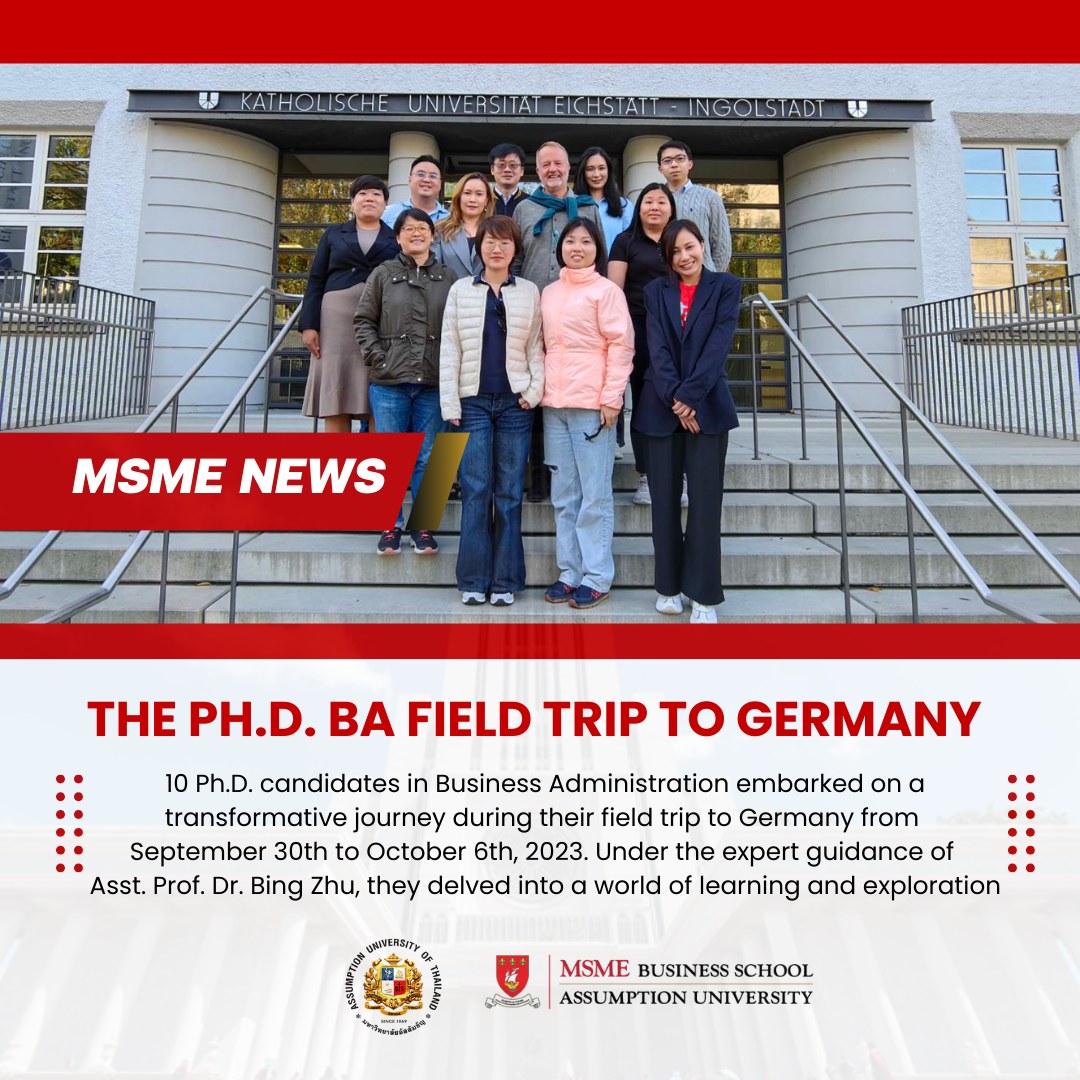 The Ph.D.BA Field Trip to Germany
The Ph.D. in Business Administration program's field trip to Germany spanned from September 30th to October 6th, 2023, and it was accomplished under the guidance of Asst. Prof. Dr. Bing Zhu. The program promises our fellow doctoral candidates an intellectually stimulating and culturally enriching experience. At its core, the trip included a research symposium hosted at the Ingolstadt School of Management, Ingolstadt, Germany, with leadership from Professor Dr. André Habisch, Dean of the Ingolstadt School of Management, Catholic University of Eichstätt-Ingolstadt, Germany, and Asst. Prof. Dr. Bing Zhu, a full-time lecturer of the Marketing Department, Martin de Tour Business School (MSME), Assumption University, Thailand. During the program, Dr. Eva Wack and Mr. Johannes Kellner, both affiliated with the Ingolstadt School of Management, also presented their research topics and related studies. This symposium provided an invaluable platform for our doctoral candidates to showcase their research areas, engage in stimulating discussions, and receive valuable feedback from both faculty. Our fellow Ph.D. candidates had the privilege to gain valuable insights into our fields and networking opportunities with the school that extend beyond the trip.
Beyond the symposium, the program included guided tours of renowned business venues, events, and attractions across Germany, which provided an invaluable understanding of cutting-edge management research and the modern business environment. The site visit to the Audi Museum and Factory Tour, held in Ingolstadt, offers a unique opportunity to bridge the gap between history and modern industry, allowing us to appreciate the evolution of technology while gaining knowledge of modern manufacturing processes. Adding to the richness of the experience, two days of cultural tours in Munich, a visit to Neuschwanstein Castle in Schwangau, and a city tour in Ingolstadt allow us to explore those cities' rich history, visit world-class museums, and savor traditional Bavarian cuisines. These opportunities offer us the chance to delve into our cultural heritage and academic legacy for our future studies.
In sum, the Ph.D.BA Field Trip to Germany seamlessly integrates a holistic experience that combines academic engagement, industry exposure, networking opportunities, and cultural exploration, making it a transformative and priceless journey for all fellow doctoral candidates. Our gratitude extends to Dr. Zhuoran Zhang, the program director, for his unwavering support and detailed planning, and to Asst. Prof. Dr. Bing Zhu, our trip leader, for facilitating this enriching experience.
Writer: Mai Aye Aye Aung, Ph.D.BA. Candidate