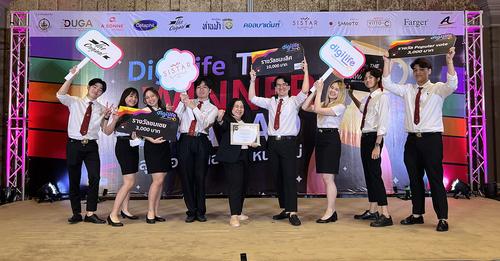 AU's Got Talent: TikTok Edition
The innovative minds of Assumption University (AU) students have once again made their mark on the national stage. Three exceptional teams from the MSME Business School have clinched prestigious awards in the DigiLife TikTok Idea Challenge. This competition, organized by the Ministry of Digital Economy and Society and the Thai Digital Technology User Group Association (DUGA), witnessed over 700 teams and 21,000 competitors from across the nation vying for the top honors.
Students had the privilege of meeting AU President, Rev. Bro. Dr. Bancha Saenghiran. They received personal congratulations on behalf of the university for their outstanding achievements. Brother Bancha complimented them for their ingenuity, emphasizing how their success exemplifies AU's dedication to excellence and innovation.
The First Prize was earned by the "Wise Asian Team," representing the Han-Fa brand. Comprised of talented students from various marketing and IBM majors, their innovative approach and creative prowess wowed the judges.
The members of the First Prize-Winning "Wise Asian Team" are:
Tanakrit Melangthong (Marketing Major)
Panuwat Chaisakulsurin (Marketing Major)
Monica Lynn Srilanpong (IBM Major)
Chanikan Rungprachadate (Marketing Major)
Thanainee Kingsaksrisakul (Marketing Major)
Sadanan Drjpaiboonyos (Marketing Major)
Pakarang Khanthajeerawat (Marketing Major)
In addition to this achievement, another group of AU students received an Honorary Award for their outstanding efforts. The "Wazzup Team," representing the SISTAR brand, demonstrated their marketing acumen and creativity to earn this distinguished recognition.
The members of the "Wazzup Team" are:
Sarisa Saenyan (Marketing Major)
Panyada Tangsantikul (Marketing Major)
Pawaret Techasukih (Marketing Major)
The excitement didn't stop there. The "Dek Inter Team," representing "The Original" brand, secured the Popular Vote Award, reflecting their strong presence and support from the audience.
The members of the "Dek Inter Team" are:
Chanatip Teeratharnpoj (Marketing Major)
Chonphob Chalermchuang (Marketing Major)
Pattarakamon Chawalnon (Marketing Major)
Zicheng Fang (Marketing Major)