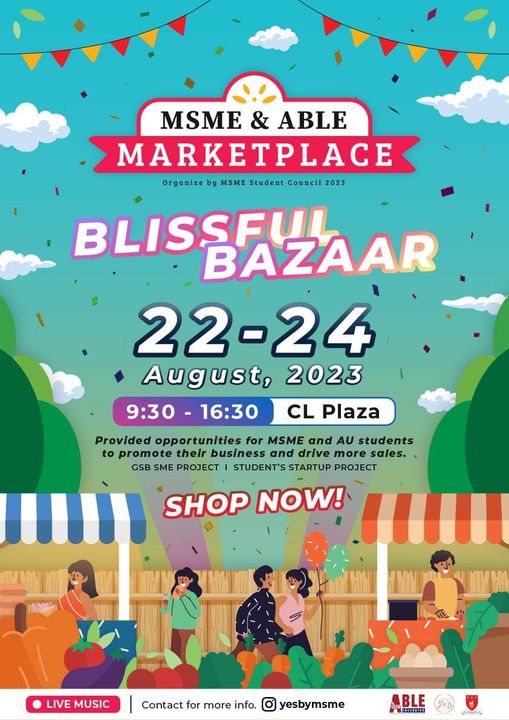 MSME & ABLE Marketplace 2023
Step into the Enchantment of MSME & ABLE Marketplace 2023 – The Blissful Bazaar!
Prepare to immerse yourself in a realm of wonder and opportunity as MSME School extends a cordial invitation to the MSME & ABLE Marketplace 2023. Themed "Blissful Bazaar," this event promises an array of captivating stalls that will transport you into a world of culinary delights, exquisite beverages, locally crafted treasures courtesy of ABLE & GSB SME PROJECT, and the innovative startup projects by DDI students.
Get ready to embark on a journey of discovery and delight at the prestigious Assumption University, Suvarnabhumi Campus, held from August 22nd to 24th, 2023. The event will unfold from 9:30 AM to 4:30 PM, providing ample time to explore the vibrant tapestry of offerings. It's not just an event; it's an experience that unites creativity, entrepreneurship, and community.
Join us and be part of the magic that unfolds when aspirations converge at The Blissful Bazaar. Your presence will add an extra spark to this already dazzling affair.
Save the Dates: August 22-24, 2023**
Venue: Assumption University, Suvarnabhumi Campus, AU plaza (CL building)**
Time: 9:30 AM – 4:30 PM**
เตรียมตัวพบกับงาน MSME & ABLE Marketplace 2023 – The Blissful Bazaar!
คุณพร้อมหรือยังที่จะสนุกไปกับ "ตลาดปันสุข" MSME & ABLE Marketplace 2023 ในงานนี้คุณจะพบกับร้านขายอาหารเลิศรสมากมาย เครื่องดื่มนานาชนิด สินค้าท้องถิ่นจากสำนักงานเขตลาดกระบังและโครงการ ABLE & GSB SME PROJECT รวมทั้งโครงการสตาร์ทอัพจากนักศึกษา DDI
เตรียมออกเดินทางสู่การค้นพบและความสุข ณ มหาวิทยาลัยอัสสัมชัญ วิทยาเขตสุวรรณภูมิ โดยงานจะจัดขึ้นระหว่างวันที่ 22-24 สิงหาคม 2566 งานเริ่มตั้งแต่เวลา 9.30 น. ถึง 16.30 น.
แล้วพบกันที่งาน MSME & ABLE Marketplace 2023—The Blissful Bazaar