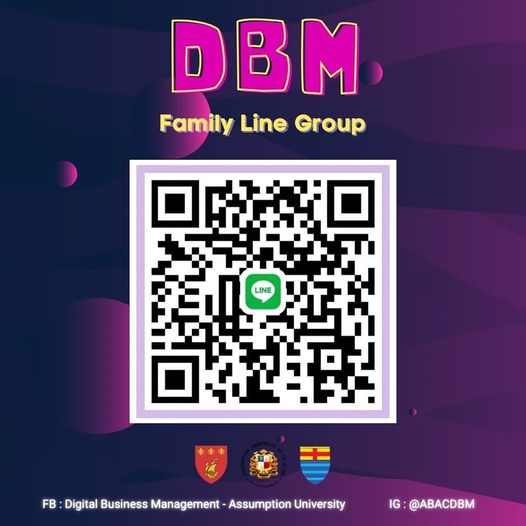 Welcome to our family
This is the family line group of Digital Business Management Major!!!
Be part of the family by joining this line group.
~Let's get in touch with Digital Business Management major more!
A chance to meet a hundreds of our major's seniors and friends!
Scan this QR code to not miss this marvelous chance and the upcoming activities!
ยินดีต้อนรับเข้าสู่ครอบครัวของพวกเรา
นี่คือกลุ่มไลน์ครอบครัว Digital business management
ร่วมเป็นส่วนหนึ่งของครอบครัวDBMเพียงแค่เข้าร่วมกลุ่มไลน์นี้
~มาร่วมพูดคุยกับพวกเรากัน!
เป็นโอกาสที่ดีที่จะได้ร่วมพูดคุยกับรุ่นพี่มากมายและเพื่อนๆ!
สแกนคิวอาร์โค้ดเพื่อไม่พลาดข่าวสารและกิจกรรมดีๆจากทางเมเจอร์ของพวกเรา!