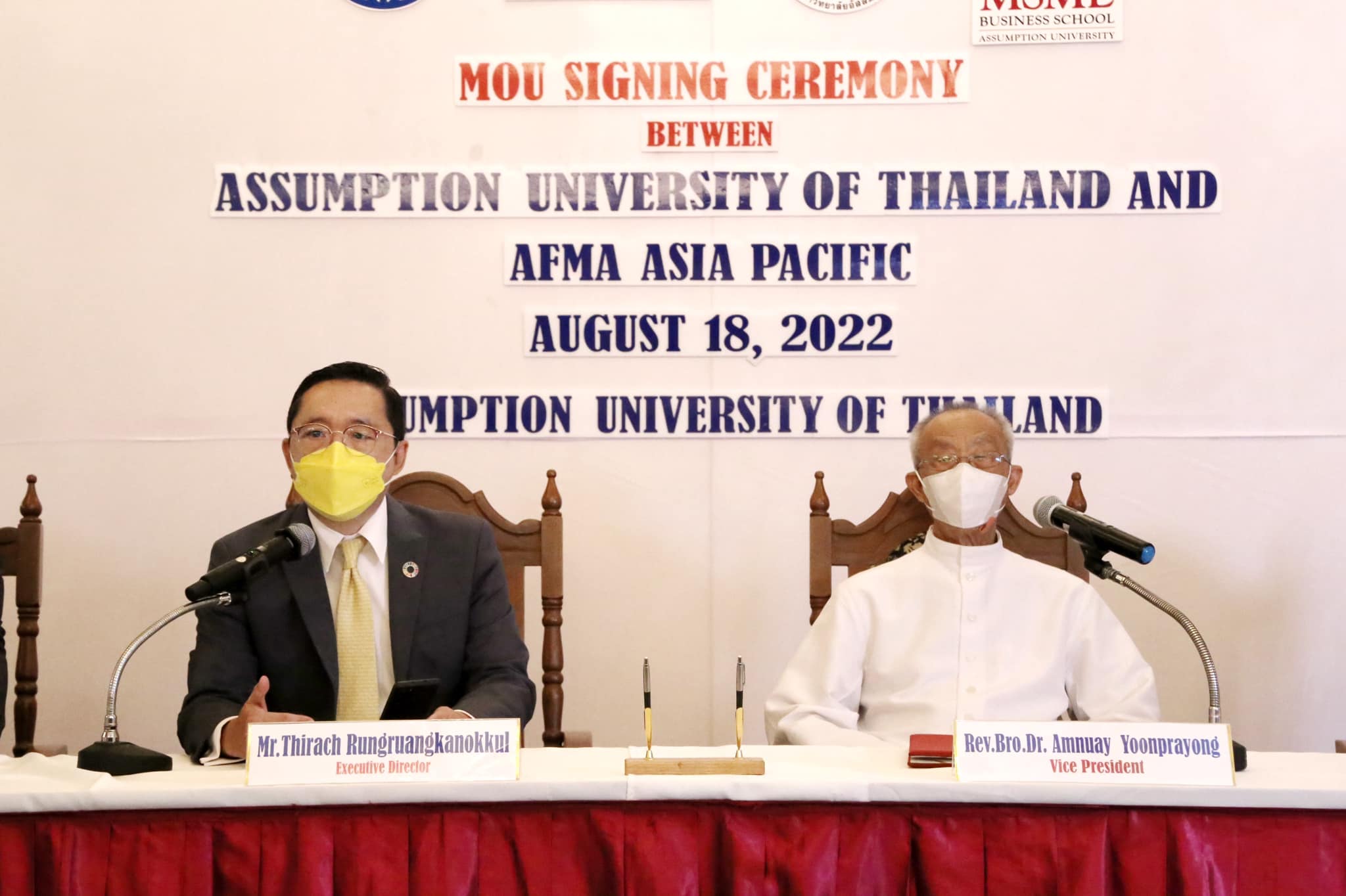 MSME Business School Signs MOU with AFMA
MSME Business School signs Memorandums of Understanding (MOU's) with the Agricultural and Food Marketing Association for Asia and the Pacific (AFMA)
Assumption University of Thailand's Rev. Brother Dr. Amnuay Yoonprayong (Vice Rector for Moral Development Education) joined hands and signed a MOU with Executive Director, Dr.Thirach Rungruang, of the Agricultural and Food Marketing Association for Asia and the Pacific (AFMA), an inter-government non-profit organization in association with Food and Agriculture Organization (FAO) of the United Nations. AFMA aims to promote food and agriculture knowledge and economic cooperation among government, private company, institute, and Civil Society Organization.
Asst. Prof. Uree Cheasakul, Dean, MSME Business School hosted the elegant MOU ceremony, expertly organized by the Department of Hospitality and Tourism Management with legendary MC, Ajarn Kirirath Poolpunt, leading the ceremony. His Excellency Mr. Mohamed Jinah, the Ambassador from the Republic of Maldives to the Kingdom of Thailand inspired attendees with his opening speech, focusing on the importance of partnerships for the sustainable development of the Maldives.
The Purposes of this MOU are;
To build relationships with Ministry of Higher Education (MoHE), Maldives and the Agricultural and Food Marketing Association for Asia and the Pacific (AFMA), that can provide Assumption University undergraduate students, faculty and Maldivians with experiences outside the traditional classroom, related to hospitality and tourism studies.
To collaborate with AFMA and the Ministry and of Higher Education (MoHE), Maldives and advise the International Hospitality Institute and Centre of Excellence for Agricultural and Environmental Technology at the Fuvahmulah island and male regarding content creation for their e-learning courses.
Expected Outcomes
Content creation for e-learning courses that are focused on sustainable tourism development and responsible hospitality and tourism management practices targeting 5% of the 240,000 Maldivian citizens aged between 18-35 year old (approximately 12,000 Maldivians and international learners).
To create opportunities that enable students to explore various career options, understand the relationship of their academic studies with the practical applications of the knowledge gained through valuable on-the-job experiences, and learn to meet the expected standards of professional conduct in their chosen field through innovative internships.