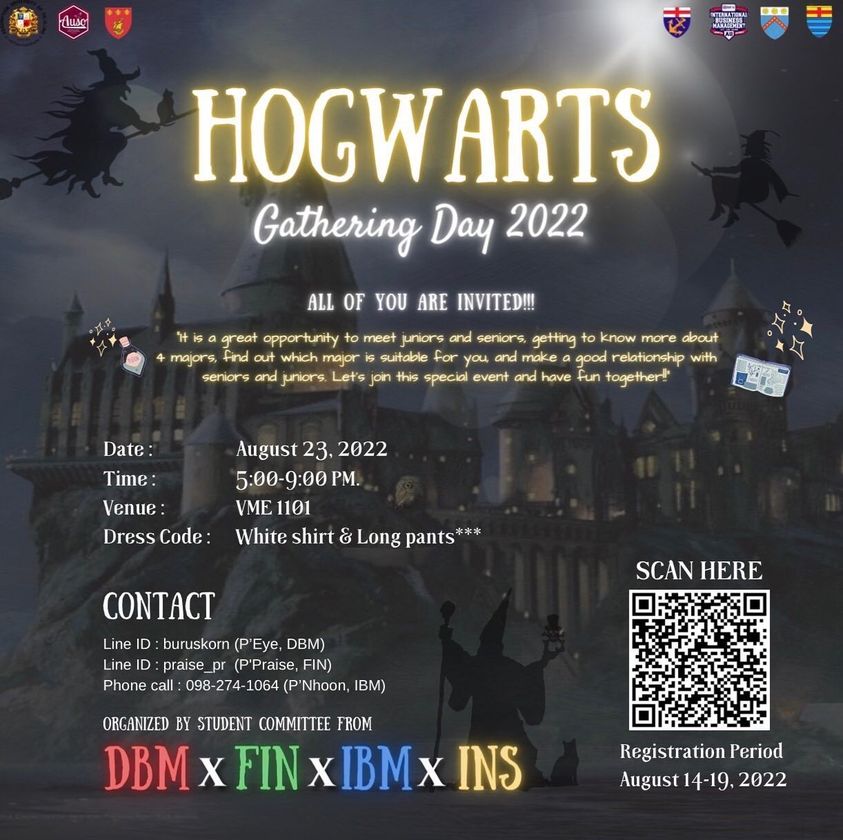 Hogwarts Gathering Day 2022
𝗛𝗼𝗴𝘄𝗮𝗿𝘁𝘀 𝗚𝗮𝘁𝗵𝗲𝗿𝗶𝗻𝗴 𝗗𝗮𝘆 𝟮𝟬𝟮𝟮
❤︎
︎ 𝐷𝐵𝑀 𝑋 𝐹𝐼𝑁 𝑋 𝐼𝐵𝑀 𝑋 𝐼𝑁𝑆
❤︎
︎
It is a great opportunity to meet juniors and seniors, getting to know more about 4 majors, find out which major is suitable for you, and make a good relationship with seniors and juniors. Let's join this special event and have fun together!!
Date : August 23, 2022
Time : 5:00-9:00 PM.
Venue : VME 1101
Dress : White shirt & Long pants
You are invited to "𝗛𝗼𝗴𝘄𝗮𝗿𝘁𝘀 𝗚𝗮𝘁𝗵𝗲𝗿𝗶𝗻𝗴 𝗗𝗮𝘆 𝟮𝟬𝟮𝟮"
For those who are interested or would like to join, please scan QR code here for registration. It's your time!!
The registration period : August 14 – 19, 2022
Requirements:
✔︎
Wear a mask all the time.
For more information, please contact:
Line ID : buruskorn (P'Eye, DBM)
Line ID : praise_pr (P'Praise, FIN)
Phone call : 098-2741064 (P'Nhoon, IBM)