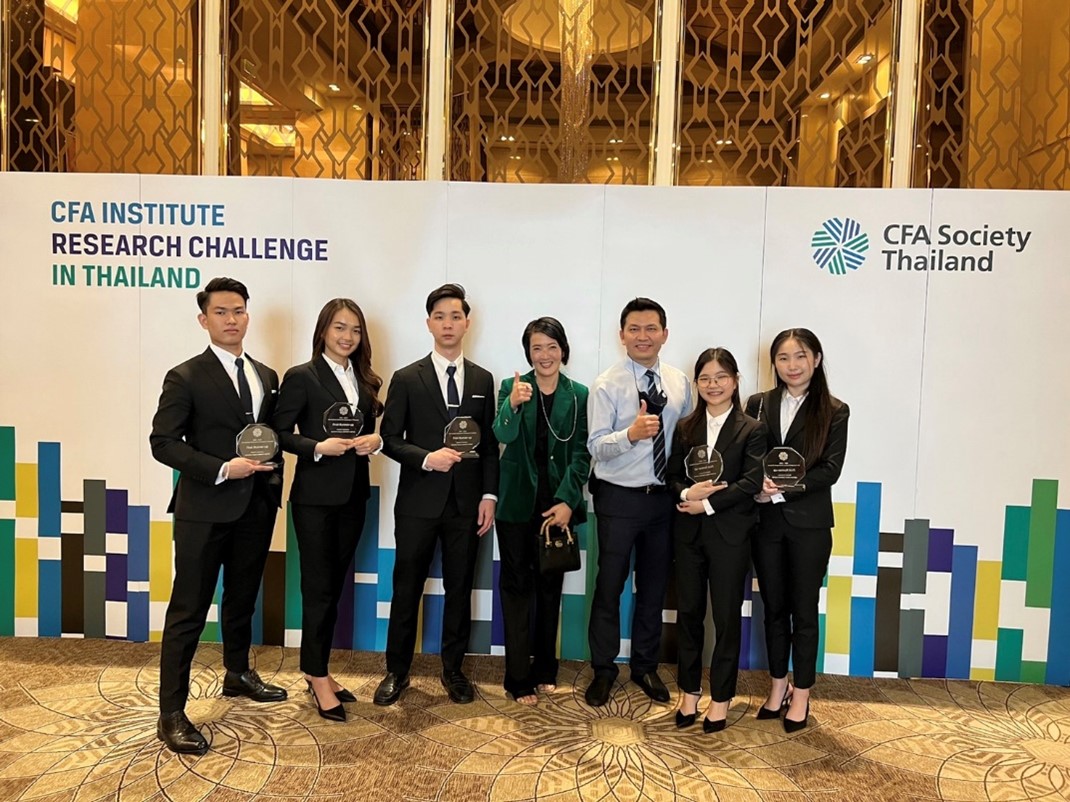 MSME Students Win First Runner Up at the 2021-2022 CFA Institute Research Challenge
On February 26, 2022, a team of students from the Martin de Tours School of Management and Economics (MSME) won the first runner-up title at the 2021-2022 CFA Institute Research Challenge. The CFA Institute Research Challenge is a prestigious international competition that enhances students' analytical, valuation, report writing and presentation skills through real-world experience. Over 5,000 students from 900 universities from around the world have participated in this challenge. 
Team members and team advisors Dr. Pathathai Sinliamthong and Dr. Chainarin Srinutshasad
The team competed against 14 participating teams from 11 universities in Thailand. Team members comprised of students from 3 departments:
Ms. Hanako Saito (6113133: Finance)
Ms. Manatsanan Phetlolian (6111675: Business Economics)
Mr. Ratthakorn Prayurajatuporn (6114597: Finance)
Ms. Sasikarn Chuenthaworn (6115283: Finance)
Mr. Teerayut Thongchaiborisut (6113201: International Business Management)
(Left to right: Ratthakorn Prayurajatuporn, Sasikarn Chuenthaworn, Hanako Saito, Manatsanan Phetlolian, Teerayut Thongchaiborisut)
The team was coached by a competent and supportive group of FIFA faculty members and alumni. Special recognition goes to the team advisors:
Dr. Issara Suwanragsa
Asst. Prof. Dr. Wanida Ngienthi
Dr. Pathathai Sinliamthong
Dr. Chainarin Srinutshasad
Congratulations! You are the pride of MSME!