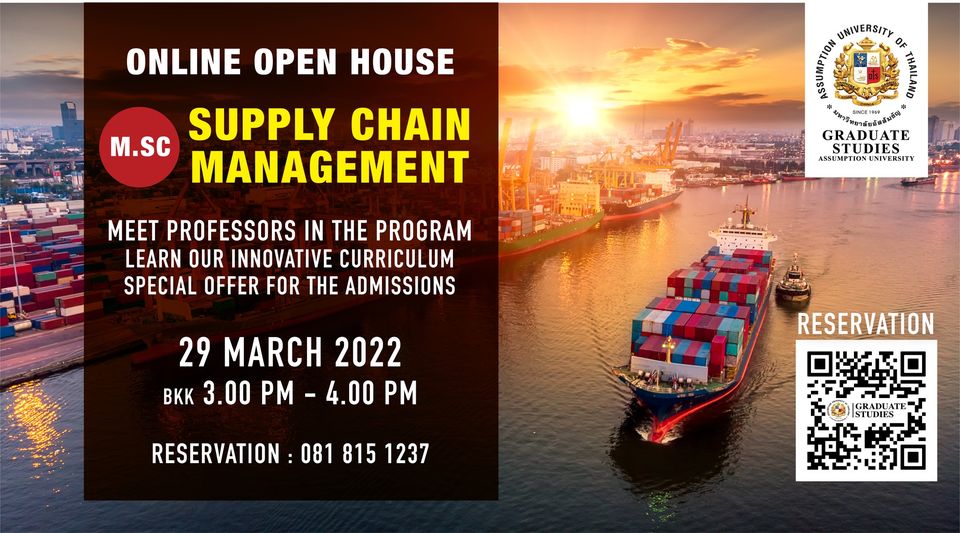 ABAC SCM Open House (MSc in Supply Chain Management) on Tuesday 29th March, during 15:00 to 16:00 hr. via Zoom
ABAC SCM Open House
(MSc-Supply Chain Management)
Innovative and Modified Curriculum
– Meet Program Director
– Learn our up-to-date curriculum
– Listen to Program Ambassadors (Alumna and Current Students)
– Special offer for the admissions
MSc-Supply Chain Management
Tuesday 29th March 2022
BKK 3.00 p.m. – 4.00 p.m.
Online Open House via Zoom Platform
Graduate Studies, Assumption University of Thailand welcomes all students, young professionals and emerging leaders to the ABAC SCM Open House.
The event will spotlight the innovative and modified curriculum (integrating business commerce and digital technology).
Candidates will also be to interact with program director, listen to program ambassadors and learn valuable information about the admissions process.
Build the future Now
หลักสูตรสร้างผู้บริหารโซ่อุปทานยุคดิจิทัล สู่แนวคิดบริหารอย่างยั่งยืน
ผสมผสานแนวคิดการบริหารลอจิสติกส์ โซ่อุปทาน ธุรกิจอีคอมเมิร์ซ และเทคโนโลยีดิจิทัล
เรียนรู้จากประสบการณ์ของผู้เชี่ยวชาญด้านการจัดการโซ่อุปทาน
สร้างโอกาสในการเติบโตในองค์กรและเป็นผู้ประกอบการ
ภายในงานพบกับกิจกรรมแนะนำหลักสูตร พูดคุยและรับคำปรึกษาจากผู้อำนวยการหลักสูตร รับฟังประสบการณ์ของศิษย์เก่าและศิษย์ปัจจุบันที่อยู่ในแวดวงซัพพลายเชน
นอกจากนี้ยังสามารถสมัครเรียนได้ในเงื่อนไขค่าใช้จ่ายพิเศษสุดภายในงาน
For more information:
Direct Line: 081 815 1237 02 7191929
E-mail: scm_abac@au.edu, gradadmission@au.edu