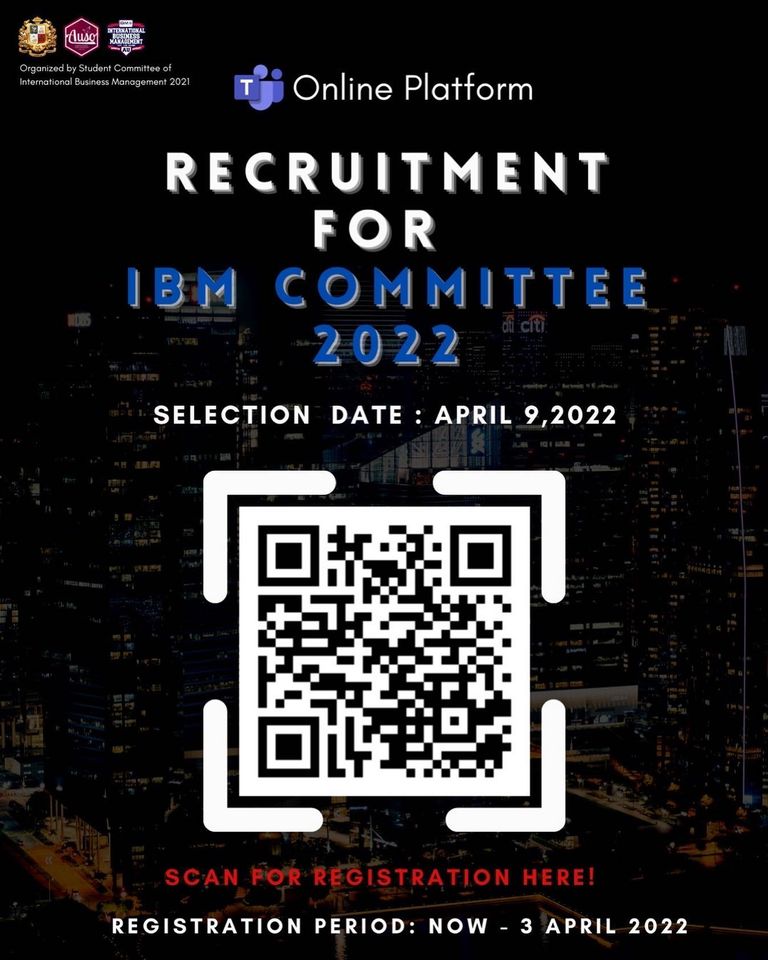 IBM COMMITTEE SELECTION 2022
IBM COMMITTEE SELECTION 2022
Are you ready to be a part of the IBM committee?
Here is your chance!
Registration Period: Now – 3 April 2022
Selection Date : 9 April 2022
Who are seeking for develop your management skill, this is a great opportunity for you guys!
If anyone interested, pls scan this QR code for registration or click this link below
Asking more information through Chatbox
IG : au_ibm
Page facebook : IBM corner
————————————————————
พวกเรากำลังมองหา committee ของเมเจอร์ IBM รุ่นต่อไป
พร้อมรึยังที่จะมาเป็นส่วนหนึ่งของครอบครัว IBM?
โอกาสมาถึงแล้ว!
ช่วงเวลาลงทะเบียน : วันนี้ – 3 เมษายน 2022
วันคัดเลือก : 9 เมษายน 2022
สำหรับน้องๆที่สนใจพัฒนาตนเอง และอยากเรียนรู้ประสบการณ์ใหม่ บอกเลยว่าห้ามพลาดโอกาสนี้!
หากน้องๆคนไหนสนใจจะเป็นส่วนหนึ่งกับพวกเรา สแกน QR code เพื่อลงทะเบียนกันได้เลย หรือ คลิกลิ้งค์ด้านล่างนี้เลย
สอบถามข้อมูลเพิ่มเติม
IG : au_ibm
Page facebook : IBM corner