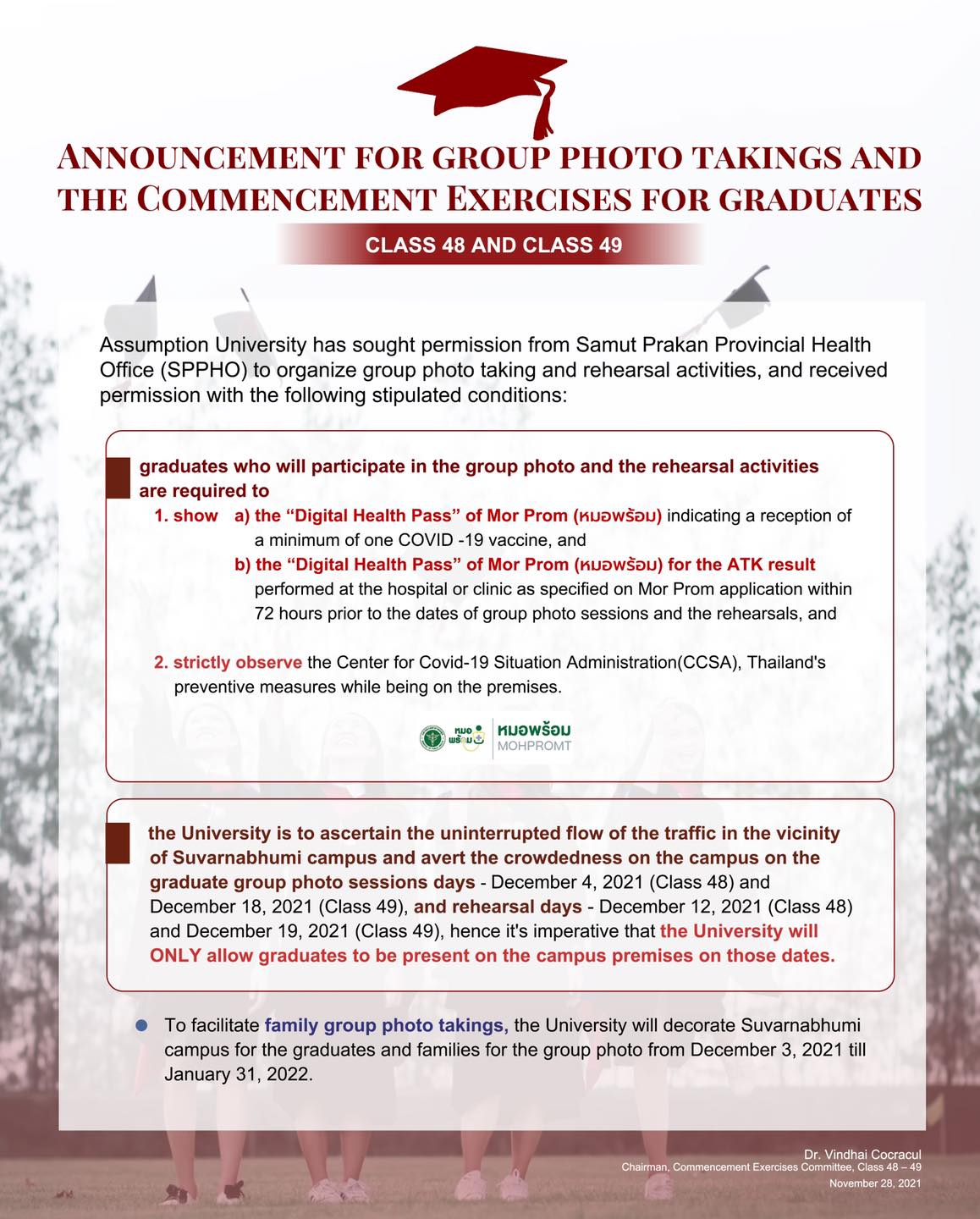 ANNOUNCEMENT FOR GROUP PHOTO TAKINGS AND THE COMMENCEMENT EXERCISES FOR GRADUATES
Assumption University has sought permission from Samut Prakan Provincial Health Office (SPPHO) to organize group photo taking and rehearsal activities, and received permission with the following stipulated conditions:
graduates who will participate in the group photo and the rehearsal activities are required to:
1. show   a) the "Digital Health Pass" of Mor Prom (KUowSow) indicating a reception of a minimum of one COVID – 19 vaccine, and.                         b) the "Digital Health Pass" of Mor Prom (KUawsou) for the ATK result performed at the hospital or clinic as specified on Mor                   Prom application within 72 hours prior to the dates of group photo sessions and the rehearsals, and
2. strictly observe the Center for Covid-19 Situation Administration(CCSA), Thailand's preventive measures while being on the premises.
the University is to ascertain the uninterrupted flow of the traffic in the vicinity of Suvarnabhumi campus and avert the crowdedness on the campus on the graduate group photo sessions days – December 4, 2021 (Class 48) and December 18, 2021 (Class 49), and rehearsal days – December 12, 2021 (Class 48) and December 19, 2021 (Class 49), hence it's imperative that the University will ONLY allow graduates to be present on the campus premises on those dates.
• To facilitate family group photo takings, the University will decorate Suvarnabhumi campus for the graduates and families for the group photo from December 3, 2021 till January 31, 2022.