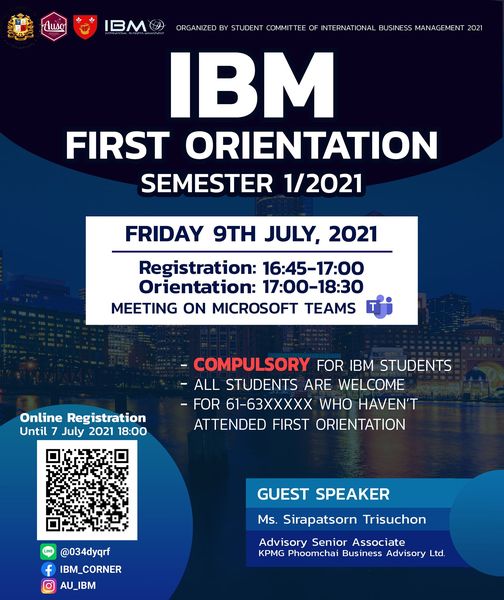 IBM First Orientation 1/2021 (Online Platform)
IBM First Orientation 1/2021
(Online Platform)
Date : 09 July 2021
Time : 17:00 P.M. – 18:30 P.M.
Place : MS Team
Registration: 16:45 – 17:00 P.M.
No need to wear a uniform "Dress Appropriately"
—————————
You are invited to IBM First Orientation 1/2021. Come along with us to know more about International Business Management Major.
Non- major students are welcomed
Objective:
• For decision making.
• To know more about IBM Major.
"All IBM Students who haven't attended the First Orientation before, you are required to attend in order to graduate "
For IBM students who must attend the First Orientation, you will receive mail on your AU Email account.
Please click this link to register within 07 July 2021 at 18:00 P.M.
We will add you to the LINE group after you register.
For further information please contact:
Line : @034dyqrf
Facebook :IBM corner
Instagram : au_ibm