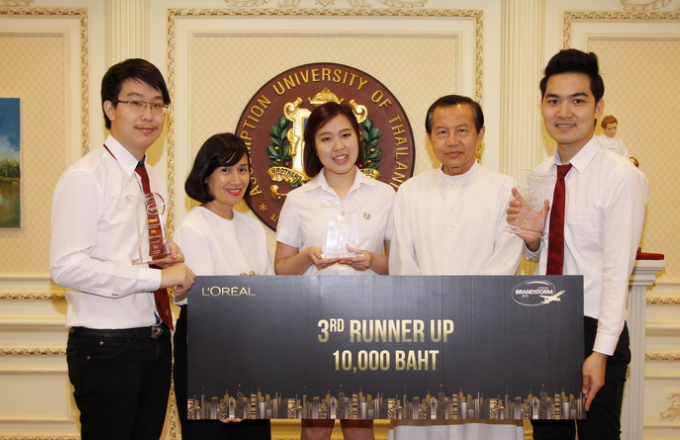 AU Marketing Students Win 3rd Runner Up Prize in L'Oreal Finals 2015
Congratulations to the AU team "Compass" on winning 3rd runner up prize at the L'Oréal Brandstorm 2015 National Finals on May 14, 2015 with ฿10,000 cash prize.
The AU Team "Compass" consists of three undergraduate students major in marketing:
Ms. Lalit Matanapojanard (Plan A—Strategic Marketing)
Mr. Teeranai Treepermsub (Plan A—Integrated Marketing Communications)
Mr. Pitchayud Ruttanon (Plan A—Integrated Marketing Communications)
Advisor: Dr. Arpavadee Visetbhakdi
L'Oréal Brandstorm 2015 is an International Marketing Plan Competition organized by L'Oréal. This year marked the 12th anniversary of L'Oréal Brandstorm Competition. This year's competition is focused on Lancôme brand in travel retail industry. Student contestants had to propose their marketing strategies to recruit new customers while loyalize existing customers.
There were 40 teams from six universities — Chulalongkorn University, Thammasat University, Assumption University, Mahidol University International College, Bangkok University, and Stamford University — with the total of 120 contestants participating.